Arkiv for taggen 'Israel'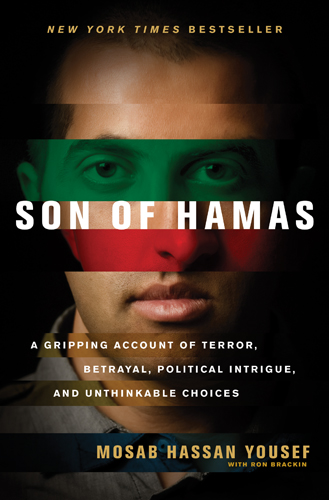 Son of Hamas: En forbløffende bog. Mosab Yousef var engang den førstefødte søn af Hamas-lederen Hassan Yousef. Så blev han agent for den israelske efterretningstjeneste og konverterede til kristendommen. I denne selvbiografi fortæller han hele den utrolige historie om hvordan han fik nok af krigen og terroren og begyndte at "elske sin næste". Historien ser ud til at være sand, men det er svært at afgøre, hvor meget der er sandhed og hvor meget, der er efterrationaliseringer og pynt. Bogen er imidlertid rigtig spændende og hurtigt læst. Mosabs far og familie har senere afskrevet ham helt.
Set i et større perspektiv er det interessant, at Mosab Yousef, der både var med i Hamas' inderkreds og agent for Israel fra 1999, helt entydigt giver Yassir Arafats magtbegær og Hamas' fanatisme og blodtørst hovedansvaret for sammenbruddet i fredsprocessen i 2000, hvor Arafat afviste de israelske tilbud og i stedet iværksatte den anden Intifada. Yousef følger her ret entydigt den israelske "fortælling" om sammenbruddet og hvad der siden fulgte, hvilket jo er interessant fordi han har haft priviligeret adgang til den palæstinensiske side. Han har derimod et ret positivt indtryk af israelerne, selvom han til sidst i bogen væmmes ved hele konfilkten og tager bort til USA for at finde sig selv og sin kristendom. Sådan beskriver han det i hvert fald, men der er sikkert flere historier om, hvad der er baggrunden for bogen.
Hjemmesiden for bogen findes her. Her er en udtalelse fra 2008 fra Global Islamic Media Front om Yousefs kristendom (før han afslørede sig selv som agent). Her er en artikel fra Haaretz.
A song for Paul Krugman (vs. Timothy Geitner).
Geithner's own words on his plan for a solution for the toxic assets. Grand plans, costly for taxpayers. But it is basically the same political solution to any societal problem that hits a lot of people at the same time: just spread the cost to everybody through taxation and redestribution. If a sufficiently large (or influential) number of people make wrong and irresponsible decisions at the same time, the normal laws of responsibility are not applicable. Rinse and repeat.
More on the plan here (with links).
On the same note: Why isn't the Obama economical advisory board meeting in public? Private meetings, private conference calls – what became of openness and honesty in discussing the nation's greatest challenge?
WSJ editorial on Barack Obama's Address to Congress (which I found both impressive and vague).
Mr. Obama clearly believes the recession has created a political moment when Americans are frightened enough to be open to a new era of expanded government. The question is whether his vast ambitions will allow the private economy to grow enough even to begin to pay for it all.
We watched the speech last night, almost by coincidence. 52 minues on the "state of the nation", outlining the President's economic policy. Probably his most important speech since his Inauguration. However, though the speech got wild applause in Congress (did you see the extatic Nancy Pelosi?), and New York Times and Washington Post appreciated the many proposals and five-year plans with some reservations, they didn't go down well in all quarters.
Op-ed by Holman Jenkins here:
Put away the idea that more government control is the cure for health care. We already bribe, through supremely asinine tax policy, the most affluent, capable consumers on the planet not to use their smarts to make sure the system returns value for money.

Let's fix this — by eliminating the tax subsidy for employer-provided health insurance. Then it might actually become economically feasible to subsidize health care for the needy.
The Economist asks: A brighter future, but who pays? – Good question indeed. It seems like a lot of people can get something for nothing from Obamas plan. Sounds nice, doesn't make sense.
At a Monday budget summit with congressional leaders and again on Tuesday Mr Obama rightly noted that the cost of old people's health care and pensions are the country's biggest long-term fiscal threats, but on neither occasion did he propose how to deal with them. In fairness it is early and stabilising the economy should be Mr Obama's priority, not long-term fiscal discipline. Premature fiscal tightening could abort a recovery. The summit on Monday and the speech on Tuesday were part of the process of softening up the public for future pain.

Both events also demonstrated that despite being jilted on his quest for some Republican support during the debate on the fiscal stimulus, he is not giving up on his pursuit of bipartisanship. On Tuesday night, at least, Republicans were co-operative, rising in applause almost as often as Democrats.
An earlier Economist article on Obama's problematic economic plans. Too much done the wrong way, too little done the right way. Escpecially Geithner's bank plans gets a lot of criticism – it is vague and inconsequential.
Despite talk of trillion-dollar sums, stockmarkets tumbled. Far from boosting confidence, Mr Obama seems at sea.
Update: Tyler Cowen is worried. Matt Welch on The Two Faces of Barack Obama. More from Politico and Reason:
He has consistently pledged to, you know, stop spending right after well, you know, he and Congress stop spending.
Totally unrelated: Christopher Hitchens blasts Avigdor Lieberman's authoritarian politics. Lieberman is a kingmaker in the recent Israeli elections and now he wants an "oath of loyalty" from all Israelis, both Arab and Jews.